Ucluelet Attractions & Business Info
Pacific Rim Fishing Charters – Ucluelet Attractions & Business Info
To help ensure the best possible experience while fishing with us, we have compiled a list of area attractions and businesses for you to find everything you need. If you need information that is not listed here, feel free to contact us.
Area Attractions
Pacific Rim National Park
(Air tours as well) www.longbeachmaps.com/parks.html
Rainforests are a rare ecosystem where moisture laden ocean breezes strike steep coastal mountains, causing up to 130 inches ( 3,200 mm) of rain yearly in the Long Beach area. Giant 1,000 year -old cedars, spruce and hemlock thrive in this mild climate. Park trails explore these thick, evergreen, mossy forests.
Long Beach attracts may visitors year-round to the Pacific Rim of Vancouver Island. Beaches up to 10 miles long, mountains and rain forests offer  breath taking walks among driftwood and sea air.  Come see for yourself!
Rocky headlands frame sandy coves with jagged surf-swept cliffs and surge channels. South Beach Trail and Ucluelet's Wild Pacific Trail offer great views of this rugged impassible terrain.
Wild animals are a big part of a west coast visit. It is common to see bears, deer, the occasional wolf print and or rarely a cougar print.
Wild Pacific Trail :Trail Description
The Wild Pacific Trail located in the District of Ucluelet is a seven phase trail system skirting the rugged cliffs and shoreline of the West coast of Vancouver Island. Overlooking Barkley Sound and the Broken Group Islands to the east and the open Pacific
Ocean to the south and west, it offers spectacular shoreline panoramas
and seaward vistas through ancient cedar and spruce-framed viewing
platforms constructed on the best headlands along the route.
www.wildpacifictrail.com
Whale Watching – (Grey, Humpback, and Orca)
Swimming, Long Beach, Kayaking, Surfing, Year round boating, Year round golfing, Storm watching, Echo Tours, Bear Watching (Black and Brown), Rain forest, The Bog, Ucluelet Aquarium, Mount Ozart (Hiking), Lake Kennedy
Motel, Lodging, Resorts & B&B,s
Pacific Rim Guest Lodge        pacificrimfishingcharters.ca/guest-lodge 
Large rooms with soak-er tubs and fireplaces
Little Beach Resort  www.littlebeachresort.com
250-726-4202 or toll free at 1-877-726-4202
 Bed and Breakfast & Inns in the area:

Bostoms Bed & Breakfast            www.bostromsbandb.com  1-250-726-7266
Copperstone  Inn        www.copperstoneinn.ca    1-250-726-7532


Wind your way out on to our secluded oceanfront point nestled in old growth
forest and discover our deluxe Ucluelet accommodation
Your day to day concerns will escape you  as you settle into the natural
surroundings and soak in the spectacular and ever changing ocean vistas.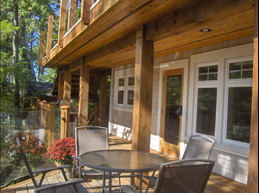 Your privacy is assured as we have only one rental suite which enjoys its
own separate parking area and separate entrance. Covered oceanfront deck
enjoys south exposure providing all day sun and a lovely end of the day
sunset.
Barbecue your day's catch or favorite steak on the large private cedar
deck overlooking the Pacific or simply use the kitchenette well equipped
to prepare breakfast lunch and dinner.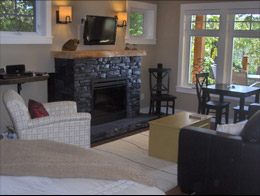 Enjoy your spa like ensuite including heated floor, huge double shower with
pebble stone base and plush robes to keep you warm while sipping wine by
the fireplace.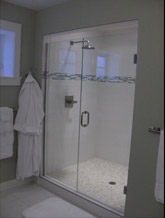 Take our boardwalk and cedar staircase (under construction) down to the ocean for a more intimate marine experience.
Observe and enjoy the ever interesting tidal
pools. On low tide hike to Little Beach and if agile even hike to
Terrace Beach then jump directly on to Ucluelet's world renowned Wild
Pacific Trail.
Pacific Rim Motel
1755 Peninsula Road
Ucluelet, B.C. Canada
Email: info@pacificrimmotel.com
Phone: 250-726-7728
For Reservations Call Toll Free: 1-800-810-0031
Pacific Rim Motel
Our newly renovated units offer either one queen or two double beds in a
standard room, kitchenette or full kitchen.  All rooms face the
Ucluelet Harbour and are equipped with a coffeemaker, alarm clock radio,
internet access and cable T.V..  Rooms
are spacious, clean, comfortable and affordable.  Our well-designed
Motel offers sleeping units on four levels, with three stories ground
access and wheelchair accessible.
Cynamoka Coffee House
Street Address

 1536 Peninsula Rd.

Phone

 250-726-3407

Toll Free

 1-866-880-6652

Email

Website
Coffeehouse serves specialty coffee and tea, breakfast, home baked goods, soups and sandwiches.
Gray Whale Ice Cream & Delicatessan
Street Address

 #2 – 1950 Peninsula Rd.

Phone

 250-726-2113
Matterson House Restaurant
Street Address

 1682 Peninsula Rd.

Phone

 250-726-2200
Charming historic house, serving breakfast, lunch, dinner, fresh baking, varied menu.
Norwoods
Street Address

 1714 Peninsula Rd

Phone

 250-726-7001

Email
Norwoods restaurant is dedicated to serving indigenous ingredients from the pacific north west in a cozy wine bar style setting.
Ukee Dogs
Street Address

 1576 Imperial Lane

Phone

 250-726-2161

Email

Website
"Comfort Food for every mood" Ukee Dogs is a "must do" in Ucluelet!
Gourmet hotdogs, salads, meat pies and a hole array of cookies.
When visiting the Ucluelet area for Salmon &Halibut fishing, we want our
friends to enjoy their time on the boat and off the boat. Local attractions
abound, so families, singles, and couples alike can enjoy plenty of fun
activities. If we missed any local attractions, feel free to contact us via our
contact page or email information to info@pacificrimfishingcharters.ca.
We hope you enjoy your Ucluelet & Tofino Halibut fishing adveture on Vancouver Island, BC
.
Ucluelet Verses Tofino- a point of veiw from The West coast Motel in Ucluelet <B.C
Thank you Brenda, Jefff & Family
Ucluelet is a little less touristy and more laid back (there are fewer gift shops and galleries);
Ucluelet is a place where you can relax and get away from it all. No busy traffic, hoards of people or pollution. Just the sound of the ocean and mother nature, and perhaps the occasional fisherman's cuss. Many people come to the west coast and want to see both communities so they book part of their stay in Ucluelet and part in Tofino. We reccommend you book in Ucluelet and make day trips to Tofino because packing up at one hotel and unpacking at another can almost waste a whole day of your holiday. We don't want you wasting anytime on your trip because your supposed to be enjoying it! We would rather you stay here! The beaches are only 10 minutes away and Tofino is only a 25 minute drive.
SURFING Everyone knows Tofino as the surf capital of the world, however we want to let you know that Ucluelet is also the surf capital! We have 2 surf shops and 3 surf schools year-round. Surfing beaches are a 10-15 min. drive from Ucluelet. An added bonus for our guests is they get a discount at one of our local surf shops while staying with us. Ask us while booking. If this interests you, we'll pass along the discount!
FISHING If catching a fish on the open ocean is one of your interests, then Ucluelet is your destination. Within Ucluelet's harbour there are countless fishing guides waiting to take you on your next adventure. Some of the best fishing happens just off the coast of Ucluelet. Our Motel also sits just above Small Craft Harbour, so you're just steps away from the dock. If you're not interested in a guided tour there is plenty of room in the ocean for you to bring your own boat and enjoy your own fishing expedition with friends and family. You can moor your craft at Small Craft Harbour, after making arrangements with the Harbour Master. We have boat trailer storage available for our guests. Either way, if your dreams involve fishing, make sure you make them come true in Ucluelet.
BROKEN GROUP ISLANDS – Pacific Rim National Park. Ucluelet is home to an incredibly beautiful archipelago of islands. Over 100 islands and islets make up the Broken Group. Visitors can find beautiful beaches, untouched wilderness, lagoons, sea caves, ancient forests and some of the clearest waters you can come across on the West Coast. The islands are home to wildlife including eagles, sea lions, otters, black bears, deer, marine life and grey/humpback whales(while they are migrating up the coastline of Vancouver Island). The whales are residents to Barkley Sound and come back annually as they pass by on their migration. Some whales stick around longer then others and are still being seen up until October. One tour operator has been able to recognize the same whale year after year by remembering certain markings on its tail. See the area by boat, yacht, sailboat, kayak or air depending on your preference. An inspiring area that will make you forget about all the stress in life and just live!
HIKING Ucluelet is also home to the Wild Pacific Trail – a coastline walk around Ucluelet's Amphitrite Lighthouse and our volcanic, black, rugged and dramatic coastline. This coastline is very different than Long Beach where the coastline is mainly sandy. A storm watchers delight, to be sure.
WHALE WATCHING Permanent resident Gray Whales, Humpback whales are hear year-round. Orcas are transient and show up to hunt every 2 or 3 weeks. We celebrate the annual migration of transient Gray Whales from Baja, Mexico to Alaska in March during PACIFIC RIM WHALE FESTIVAL.
Ucluelet is home to the Ucluelet Aquarium – not just any old aquarium. The harbour-front location, tide pools and ever-changing array of local sea creatures are definitely exciting and unique. Touch tanks and the resident octopus who loves crab-shakes are amazing sites for all ages. Coolest of all – all creatures are brought in by volunteers (local children, commercial fishermen and diver volunteers) – AND…. released at the end of the summer. Go Nemo go!
The brand-new Ucluelet Community Centre near Big Beach (right near the Wild Pacific Trail) can host family reunions and weddings. Contact the District of Ucluelet. This facility also hosts family movie nights on many a Friday night. The Seaplane Base Recreation Hall hosts roller-skating for the kids.